Electric unicycle fans wonder which 16-inch flagship model is better - Kingsong KS16 (after face-lifting) or InMotion V8. As I had a chance to test both devices, I accepted the challenge to compare them. Let's go then!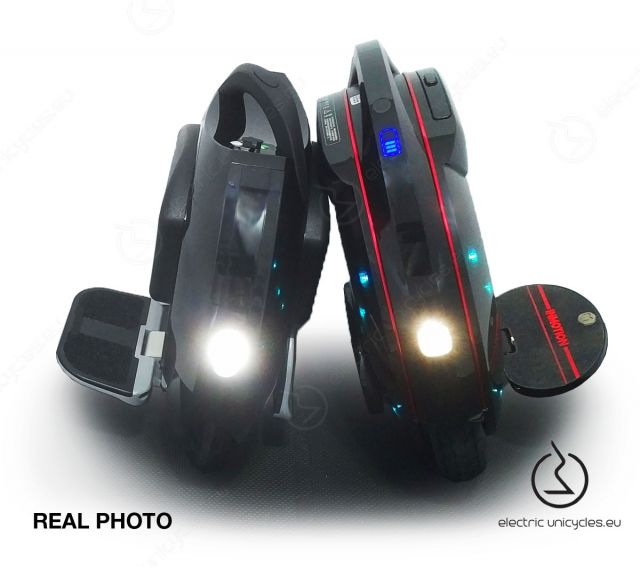 Size and weight
InMotion V8 weights about 13.5 kg. Its opponent with the same tyre diameter is about 3 kg heavier. The weight difference is caused by the V8 motor and smaller battery capacity, but I will explain it later. The V8 itself is the tallest unicycle I've seen among the 16-inch-ones, and unfortunately, the only one 16"-model that does not fit into a backpack.
KS16 looks "thicker", but it's only a wrong impression caused by bigger pads of it - both wheels have similar thickness and width. KS16 is definitely lower and fits into a backpack without a problem. The shape of KS16 is closer to a circle, while V8 resembles an ellipse from the profile.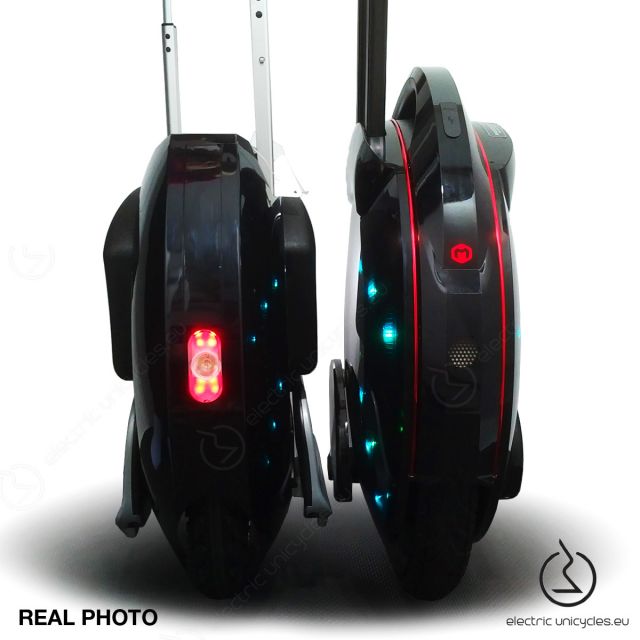 Engine, power and maximum speed
We used to BLDC motors installed in most electric unicycles. This time is no different. Both models are equipped with 800 W nominal power DC-brushless motors. It allows KS16 to reach max. power output of 2700 W. Instant accelerating and braking when riding 30 km/h is safe.
InMotion company does not define the maximum power output, but unofficial user test result in somewhere between 1600 and 2000 W. The manufacturer declares 30 km/h as the top speed.
Remember - the European Union speed limit for electric unicycles is 25 km/h.
Both vehicles are equipped with safety features, like various kinds of sound alarms or tilt-back option.
The user can adjust the KS16 safety features from the level of a mobile app, and it is possible to change the alarm sounds in the Inmotion mobile app.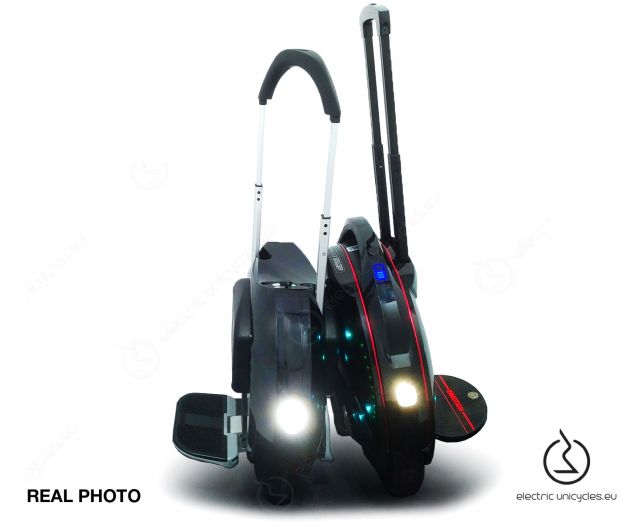 Batteries and range
Both devices use Li-ion batteries, which are fully recyclable. This type of battery is the most popular - we use it every day in our cell phones or laptops.
V8 has 480 Wh Samsung batteries.
By contrast, KS16 has 680 Wh Panasonic batteries (2 x 340 Wh). Panasonic is the world leader in battery manufacture - even Tesla uses Panasonic batteries in their electric cars.
KS16 batteries are placed on both sides of the device and contribute to the unicycle's perfect balance.
The real range of KS16 is 60 km tops. In case of InMotion V8, we can get 40-45 km tops. Bare in mind, that most riders do not exceed 30 km a day, therefore 40 km should be more than enough, for most people.
Remember that many factors affect the range: the user weight, the road inclination, the road condition and the outside temperature, among others.
The charging port is placed on the top of both devices, and protected with a rubber cover. The philosophy of the charging is simple: we can use any standard wall socket, it's as easy as charging a phone.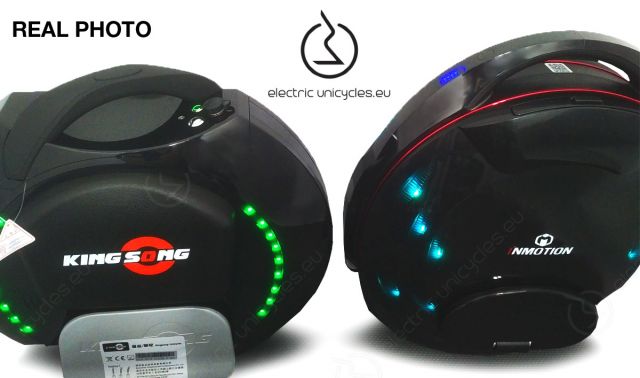 External look
InMotion V8 is available in shiny black colour only. It is truly beautiful - in my opinion, it looks even better than KS16. However, it is very hard to keep the glossy black finish clean - even the smallest dust particles, scratches or fingerprints are visible on it. The outer shell quickly stops resembling itself. Fortunately KingSong is available also in additional two colours: shiny white (which is great as any fingerprints, small scratches or dust particles are invisible on it) and matte black (a special edition with rubber finishing).
The side pads of V8 are small and hard (they are made of plastic), but the manufacturer includes additional soft pads for ankles. A user can simply stick them to improve the riding comfort. KS16 has big and hard pads, so the feet are deployed much wider.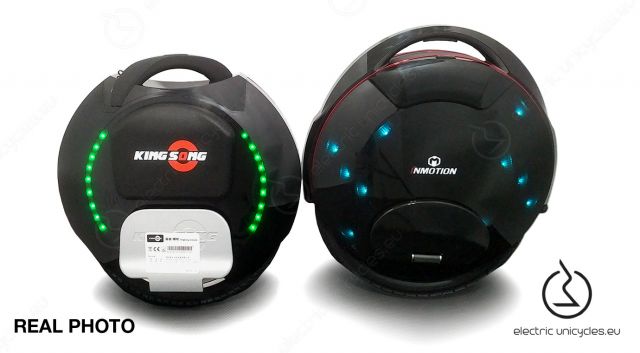 Trolley handle
Both models have built-in trolley handles which really help carrying the wheels inside buildings. This simple solution has been borrowed from well known suitcase systems, which is super useful.
In the case of V8, the trolley handle is hidden inside the shell and can be deployed after pressing a button. Besides, V8 has also got a fixed handle with physical button that turns off the drive when lifting up the wheel, which is very intuitive and useful.
In KS16, the trolley handle is built into both sides and it also doubles as a normal handle when folded, which makes this electric unicycle unique.
The fact the deployed handle of V8 is placed higher than in KS16 is definitely an advantage of it, and it will satisfy even basketball players. However, all people up to 188 cm of height won't have any issues either with V8 or KS16.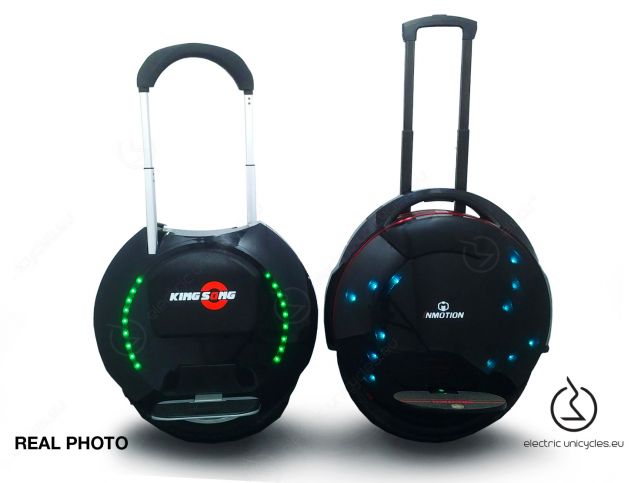 Pedals
V8 pedals are placed very high, that's why the centre of gravity is not as close to the surface as in other electric unicycles. This solution should theoretically prevent scratching the pedals when making quick turns. I've checked this by myself and I must admit that scratching these pedals is almost impossible. Overall, this solution makes learning and riding straight easier, but it is noticeably harder to turn than in other wheels. Besides, the unicycle has lower skid resistance, what can be improved by changing the tyre to a low profile one. With thin shoe soles, you can feel the prominent rubbery InMotion logo under your feet. People like this solution, as it protects the side covers from scratching and lets you feel your foot position. Besides, the logo can be detached if needed.
It has to be added the pedals are finished with a grip tape, which guarantees great shoes traction.
The KingSong KS-16B pedals are finished with rubber and placed closer to the ground. The centre of gravity is lower, providing better traction. In response to the InMotion solution, KingSong decided to do a KS16 face-lifting in 2017, which affects mostly the pedals. They have been redesigned and finished partially with a grip tape. They're slimmer and unfold skewed to the top. The post-facelift version is KS-16C.
Thanks to the face-lifting, the KS16 external pedal height is almost identical as in V8, and the centre of gravity issue has been solved, as in KS16 it is still closer to the ground than in V8 (the feet are placed lower). It is hard to explain, that's why we took a comparison photo.
I can confirm the KingSong solution works as it was supposed to, as I've ridden both versions of KS16 (KS16-B and KS16-C).
I couldn't scratch the pedals of post face-lifting KingSong KS16 and InMotion V8.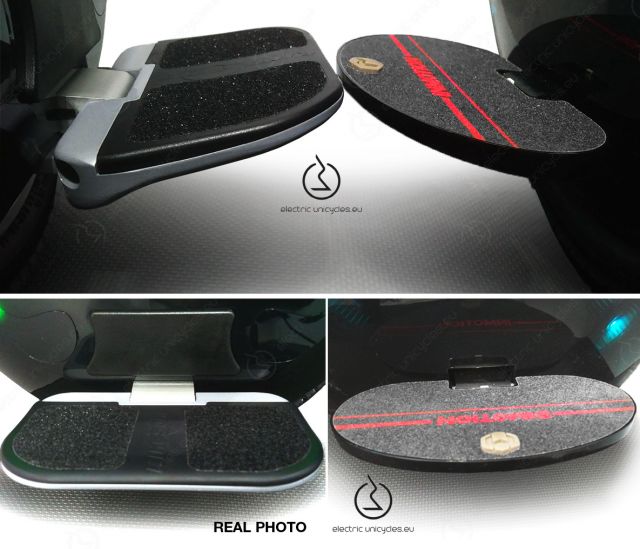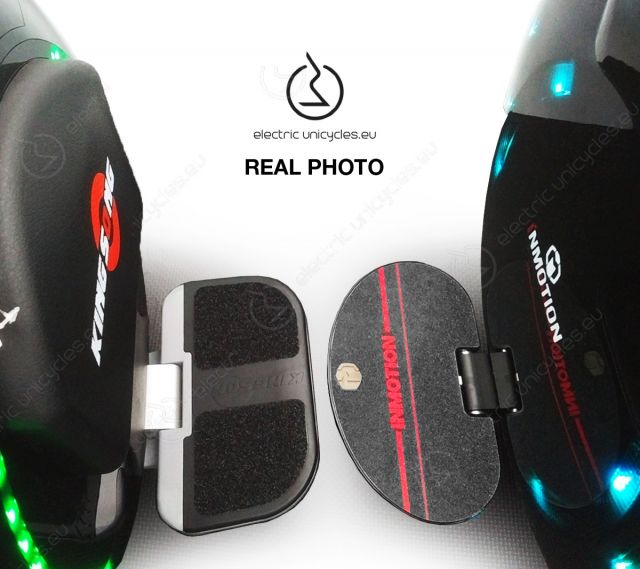 LED lights and lamps
InMotion V8 has 3-row side LEDs, which are a decoration only, because the battery charge indicator is placed separately, close to the power button. It is a unique solution on the market. Instead of a rear lamp, V8 has a small red logo in the rear only. It is actually an extra small position lamp and not a really bright one. It does not double as a stop light, but it's good it's built-in. Inmotion did a really good job by equipping the device with a really strong front lamp - the light is brighter and more focused than in KS16.
KingSong KS16 has also got side lights - classic 1-row LEDs. When stopped, the LEDs indicate the battery charge status. A strong stop lamp is a standard in every KS16, which works similar to a car brake light. While braking, the light turns red (if it was turned off before) or turns much brighter in the case of the rear lamp was enabled earlier. The most awesome thing is you don't have to choose the "front" side of the wheel - the vehicle is completely symmetrical, and the lights are being automatically swapped whenever you change the riding direction. Now the coolest part - KingSong is also equipped with a twilight sensor! The lamps will be turned on automatically - each time you need them. Half of the cars we see today don't have such a feature! Obviously, the user can always turn the lamps off manually (for saving the battery for example) or turn them on before the twilight by double-pressing the button on the top.
Both manufacturers created various light settings for the side LEDs, which are adjustable via the mobile app. The lights can be also turned off completely in the app or by a shortcut (there are shortcuts for this in both devices - in V8 you press and hold the power button, then press the button under the handle).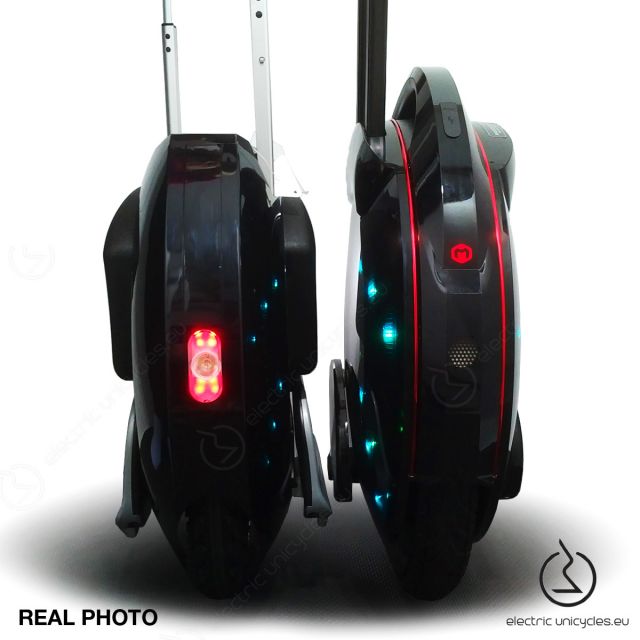 Speakers
The place that could be used for a stronger rear light in the case of V8 is occupied by one speaker here. Unfortunately, its purpose is to play the system sounds only (e.g. during device power on/off) - you can't listen to the music via Bluetooth.
By contrast, you can find 2 stereo speakers on the sides of Kingsong KS16. The speakers are very loud and their quality is good. Most importantly, you can listen to your favourite music via Bluetooth.
Mobile applications
There are two apps created for Kingsong. One of them is the official app which allows to adjust the lights, ride modes, side LEDs, sounds, speed alarms, and it also calibrates the gyroscopes or updates the firmware.
The second app is Whellog. It logs the KS16 parameters live - like power, voltage, current, speed, battery charge and saves your GPS location. The app works well with Pebble smartwatches. People - and not only who like gadgets - will appreciate such features as displaying current speed or navigation on a smartwatch. For example, the speed can be always visible, and the smartwatch can additionally notify one about the low battery status or having exceeded the speed limits with its vibrations.
You can download the official Kingsong app here.
You can download Whellog here.
InMotion has its own official mobile app. You need to be sure you have purchased your unit from an authorized distributor (like we are - for example), otherwise the app will not connect to the vehicle. The application requires creating a user account and registering our V8 serial number before we can use it.
The app has some interesting features, like pedals tilt configuration, V8 hardware diagnostics, the ability to create our own light modes with animations (heads up: changing the lights mode requires sending a file to the unicycle via Bluetooth - and it takes a while for the first time), the ability to replace system sounds for some others (or even our own ones), or even to completely turn off the sounds. There is also a social network included, integrated with a map, that you can use to track your routes.
You can download the official InMotion SCV App here.

Both the V8 and KS16 mobile apps allow to set a speed limit, track our speed and vehicle mileage.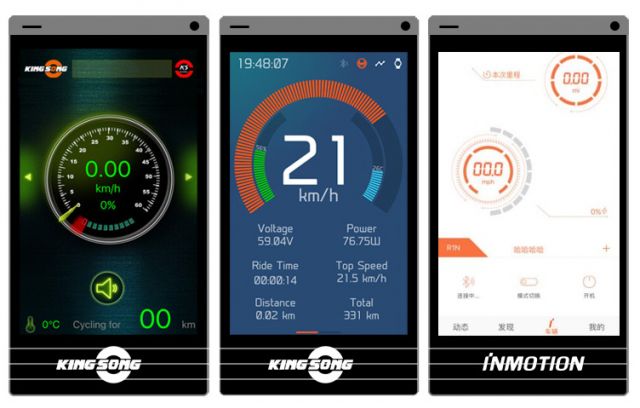 Price and availability
Kingsong KS16 is available in the European Union for €1175 (£1,054), with a 2-year warranty period and in-house service. The unique variant with rubber finish costs €57 (£51) more.
INMOTION V8 is also available in the EU and it's cheaper - it costs only €1082 (£970). The devide comes with a 2-year warranty and in-house service as well.
Both vehicles have tremendous, official support groups. Both electric unicycles provide the specs and features from the top shelf, but are middle-shelf priced, fortunately. If you are looking for a universal all-rider, these two have the best price to quality ratio.
Remember, that by ordering any of these devices from China or from unauthorized shops/websites, despite the obvious risks, we can forget about any warranty. Besides, KingSong and Inmotion have different versions of their products designed for different markets. In the case of unauthorized INMOTION product, the mobile app will be blocked, which means unlocking the factory speed limit or changing any settings won't be possible. In the case of KingSong, you can get a version with less reliable LG batteries instead of Panasonic, as well as completely different branding of your wheel.
Therefore, you should purchase your unicycles from official sources only. As ElectricUnicycles.eu, we are proud to be an official shop.
Summary
Both electric unicycles are great, they're best in class of 16"-wheels. Advantages of one over another are mostly minor and you will be satisfied no matter which one you have.
INMOTION V8 is a bit cheaper, but looks much better, it looks premium. Besides, it is lighter, it has a higher trolley handle and an intuitive button in the fixed handle, which disables the drive. The mobile app is also much better.
Kingsong KS16 is smaller, but provides slightly better performance - more power, better range and manoeuvrability (it is perfectly balanced, it's easier to make turns and it has a lower centre of gravity, which matters when making sharp turns or having potential skids). Besides, its equipment is richer - it has everything you could dream about, without the need for buying additional accessories. But let's face it - a stop light or a twilight sensor are not mandatory, and almost no one uses the built-in speakers.
If you want to spend less money, while having a vehicle that is impressive even on a business meeting - Inmotion V8 is the best choice.
If you need a better range and comfort, then it is worth to pay extra for KingSong KS-16C (white or black). The rubber black matte version is the only one on the market, so it's the best choice if you want to be unique and stand out.
What would you choose? Let me know in the comments below!