Take over the city, in style - watch the video
INMOTION V8 electric unicycle is now available. The newest 2017 production guarantees your V8 will be reliable and stable.
V8 is the best model of Inmotion company - one of the electric unicycle market leaders. The INMOTION engineers paid attention to details, this is why the V8 model characteristics are the highest build quality, perfectly fit casing and sleek design.
Watch our 30 second video with V8 in action.
Class all the way
INMOTION V8 belongs to the premium class of electric unicycles. An outstanding design impress even on business meetings. Properly designed pedals and casing make sure you don't have to worry about mud or rain.
A quick reminder about V8 characteristics:
Rich equipment, including a trolley handle, a strong lamp for night riding and 3 side LED rows,
Ability to disable the drive temporarily when lifting up the device with the handle button pressed. It is the only such solution on the market,
800 W electric motor rated power,
Maximum speed up to 30 km/h,
480 Wh lithium-ion battery, with range up to 40 km on a single charge.
INMOTION V8 is available in amazing €1047 price.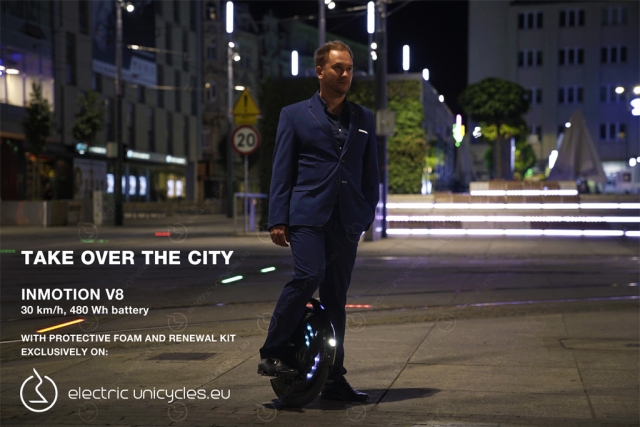 All-rider
Justina has already tested our V8. Watch the test ride video below.
Remember, that Inmotion V8 is a 16-inch electric unicycle. It is the same tyre diameter like in BMX bikes, which is the most universal option for riding on all kinds of surfaces.
Enjoy the video!