14-inch electric unicycles are enjoying a rise in popularity. What their users particularly praise about them mostly refers to:
dimensions – they fit into a backpack or bag,
weight – they are easy to carry around,
parameters – certain models have similar performance levels to those of 16-inch wheels,
price – they are much cheaper than 16" models.
This is why I have decided to compare two light and cheap unicycles: InMotion V5F and IPS Zero. Some fans of electric wheels think they are very similar in what they look like – and this is where all similarities end. Hopefully, I will be able to help eliminate any doubts in those who are still indecisive. Enjoy!
Oh, this design!
The design of V5F strongly refers to InMotion V8 which is praised by many users. When it comes to the profile, this unicycle resembles an ellipse, as its batteries have been placed just over the wheel. With this solution considered, V5F is categorised as one of the tallest 14-inch models on the market. It weighs 10 kilogrammes, namely about 1.6 kilogramme less than V8, while 2 kilogrammes more than IPS Zero. The unicycle is available in two colour versions: white and black, both with glossy finish.
With its shape, IPS Zero resembles a nearly perfect circle. It does not have any protruding or decorative details (except for its pedals and a handle). There are also no visible screws drilled up in its casing and it is as difficult to find connections of its particular components. It is one of the most refined wheel models present on the market, due to which it stands out among all electric unicycles combined. IPS Zero is the smallest 14-inch model on the market – it only weighs 10 kilogrammes. This model only comes in white with glossy finish.
The dimensions of IPS Zero are 481 mm x 382 mm x 168 mm, namely slightly less than its own wheel and tyre combined. Thanks to this, the unicycle can be easily put inside a bag or backpack. What our store offers original IPS backpack may also accommodate for most 16-inch wheels. Its size may be adjusted with the use of binders while the wheel itself should be protected with the use of compression straps. After having hidden the load-carrying system of the backpack, one may transform it into a suitcase with the use of a telescopic handle and caster wheels it has been equipped with. Aside from a unicycle, the bag may also accommodate for its charger or even small buys. You also do not need to wonder what it means for V5F – this model will fit inside as well!
On everything one needs
InMotion V5F has got its pedals placed high, as on the same level as in the case of V8. This solution is meant to prevent one's equipment from getting scratch marks at sharp bends and facilitate riding along a straight line. Still, this also has a certain drawback. It is easier to skid during rainfalls, as the centre of gravity is not located close to the ground (hence I recommend an off-road tyre). In turn, pedals have their surface covered with sandpaper which ensures great adherence of one's shoes. Fortunately, it is easy to replace it, as it tends to wear down very often. It awaits you approximately after each 200-300 km, depending on what conditions you ride under. There is a logo of the producer placed on the pedals; it separates the abrasive surface from the casing, preventing the latter from getting any scratch marks. Just to reassure a small group of fans of completely smooth pedals: this part may be removed in three minutes. Its pedals can be closed and opened in an easy way, while the mechanism applied is very user-friendly. This model has been equipped with side pads which are quite soft and covered with eco-leather.
InMotion V5F has got large cut-outs within its wheel-accommodating casing which is greatly suitable for outdoor use. The set also provides a mudguard of rubber which is supposed to protect the unicyclist from mud and dust. It works well under rainy conditions while it is also easy to dismount it once the sky clears up.
IPS Zero is equipped with well-integrated, magnetically foldable pedals. It is currently the most convenient solution on the market. They are made of light alloys and covered with rubber, due to which it is not only easy to wash them, but also impossible to wear them down. They provide good adherence of one's shoes and enable the change of one's foot position during a ride, while the former is considered to do worse during rainfalls than in the case of the pedals of V5F. The pedals of Zero model are placed quite low, thanks to which the wheel is incredibly well-maneuverable, adhering to the road even at sharp turns and under difficult weather conditions. Initially, it is worth protecting it by the application of protecting foam that is included in the set.
IPS Zero has not been equipped with any side pads which allowed for the reduction of its dimensions. The lack of pads is very convenient and particularly to be appreciated during longer rides, as nothing may rub against the user and they are free to position their legs however they want. In the case of this model, the wheel is not as considerably cut-out as InMotion V5F which makes both mud and rain less discouraging in terms of rides, while, on the other hand, it may be harder for us to ride along forest paths or through kerbs.
Handle
Inmotion V5F has been equipped with a fixed handle having a manual button which switches off the drive – this allows for lifting it without the need to completely turn off the whole wheel. This solution is incredibly intuitive and useful, particularly in the urban environment. The set also contains a foldable handle. One only needs to tighten it into specially prepared fixing holes.
IPS Zero is also equipped with a fixed handle. It is made of rubber and, thus, less flexible. Its manufacturer has decided against the use of a folding handle, intending to maximally minimise the weight of this model. This model is easy to carry in one's hands, while in case you wanted to have a longer handle, you may always make an additional purchase of… a handle made for V5F. It is compatible and ready to be screwed in into the handle of rubber of IPS Zero.
Some technical data
The motor of InMotion V5F has got the nominal power of 550 W. The producer does not provide the maximum value of its instantaneous power. The producer-declared maximum speed is 25 km/h which allows for easily bypassing pedestrians, cyclists and cars stuck in traffic jams. The batteries of 320 Wh capacity – which allows for covering the distance of up to 30 km – were manufactured by Samsung company.
In the case of the specification of IPS Zero, we have to do with a reverse situation – the manufacturer provides the value of its maximum instantaneous power at 1000 W, while it does not disclose the value of its nominal power.
The IPS 141 motor (the most efficient version of ISP Zero) allows for easily moving about. The maximum speed is even 30 km/h but the tilt back may be activated even a bit earlier. Only a half of power of this unicycle is used while riding at the speed of 20 km/h. In the case of IPS Zero, the batteries have the capacity of 340 Wh and were produced by SONY company. The real range on a single charge is even approx. 30 km which makes for an incredible result, considering the weight of this model.
The range of both devices should be sufficient for most users. If there was a range test carried out under identical speed, riding and weather conditions or user weight, it seems that IPS Zero could cover a slightly longer distance.
Both companies have great experience in creating unicycles.
IPS company is known and acknowledged all around the world while each wheel by them gains popularity on account of the robustness of their final product, reliability and – last but not least – compact dimensions and weight. The engineers of IPS are real specialists in this category.
INMOTION is also characterised by a great quality of performance. It is easily noticeable that everything about this model has been thoroughly well-thought and taken care of to the tiniest detail once you only open the unicycle. The philosophy of this producer pays more attention to increasing particular elements of integrated equipment at the cost of not reducing its size or weight. It also needs to be underlined that – despite this – the weight of V5F still represents a very good result. However, V5F is closer to 16-inch models in terms of height.
When it comes to technological questions, it is worth noting that IPS has created its own battery management system (BMS), being integrated with the company's original motherboard, equipped with 12 MOSFET, which is to serve the optimisation of entire power supply with regard to the riding physics that relates to electric unicycles. Due to a close cooperation between its components, IPS Zero is characterised by a very high efficiency – the device both uses and recovers energy to the maximum in order to ensure the best range and overload resistance. IPS calls it "Field-oriented control system".
On the other hand, INMOTION uses great metal alloys in their motors, meant to offer possibly the greatest power, while keeping the weight of motor itself to the minimum. The company is famous for that the subcomponents they use are reliable.
Both companies apply inbuilt security mechanisms to their products. IPS company has implemented certain limitations being active throughout the period of learning how to ride, aimed at serving the safety of users. The initial maximum speed has been limited to 12 km/h. After having covered 5 km, the limit becomes raised to the level of 20 km/h. After further 45 km, the limitation is deactivated and it is possible to change the maximum speed to 30 km/h via a mobile app. In the case of V5F, the maximum speed is limited by design but can be made inactive after installing an app and registering one's user account.
Both InMotion V5F and IPS Zero emit sound signals while getting close to the speed limit, while – if ignored by the user – the said unicycles have their tilt-backs activated, namely the purposeful leaning of pedals to the back which forces the user to reduce the speed.
Both InMotion V5F and IPS Zero have been equipped with systems of braking energy recovery.
Both unicycles are professional devices, yet they have not been designed with larger and heavier users in sight. We particularly recommend these models to younger individuals (it is a great idea for a gift!) and those users who are yet to start their adventure with "monowheels", not planning to take any extreme rides instantly after getting hold of them. Both models do great with regard to purposes they have been designed to serve: city rides, mostly along flat surfaces. It does not mean they cannot be taken off-road – I used to do it myself! Still, if you do not see yourself as belonging to this user group, it is worth considering to buy something of a greater power and, possibly, a 16"-diameter.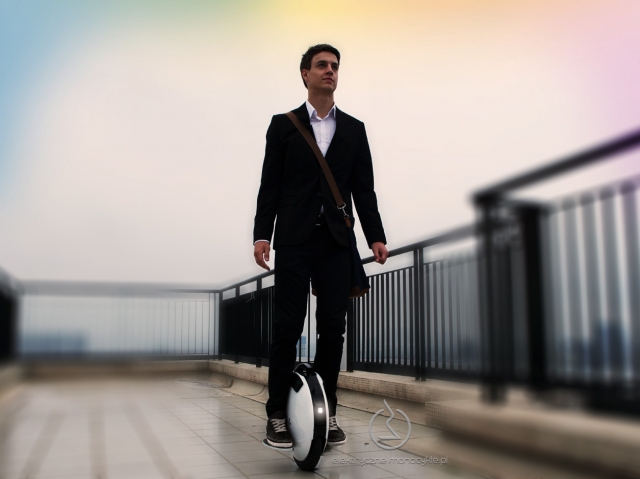 Let there be light!
InMotion V5F does not provide three-row side LED indicators, unlike V8. In the case of the latter model, the producer has decided to place its blue position LED lights just under the powerful front lamp, being a big advantage of this device. The charging status indicator has been mounted in a separate way, close to the ON/OFF button of the unicycle.
The producer's logo was designed as a red-highlighted rear position light. Additional red LED lights, placed symmetrically to the front ones, serve the function of braking lights (this is what V8 is yet missing). There is a loudspeaker displaying notices and alarms placed slightly lower.
IPS Zero has got two side LED strips that may be freely configured via an app. One of my clips lets you see how many light schemes there are, even including the lights that emulate riding with one's beacon lights on. The choice of a lighting mode is truly impressive.
Both the double function of LED indicators and their placement make for a very clever and unique solution. The diodes are not only placed as directed towards the road but also as being visible from all directions or under all angles. Due to this, IPS Zero has got a special lamp mode for night rides that switches off the decorative lighting and replaces it with the steady one – white to the front and red at the back of the unicycle. The said lights swap places while riding backwards. In spite of the fact that those diodes do not light up the road as effectively as the lamp of V5F does, they still make us perfectly visible for other road users in terms of us operating a means of transport. Regardless of the lighting configuration chosen, IPS Zero always has its braking lights active. The entirety looks particularly great and has a futuristic vibe to it.
Both companies have decided not to implement the flash mode to their devices, mostly on account of user safety (a threat of so-called "target fixation").
App
The IPS Zero app has been released for Android, BlackBerry and iOs platforms.
IPS Zero has got two possibilities for the selection of a riding mode:
Comfort – a mode allowing for riding the wheel more intuitively. It is characterised by a gentler acceleration. The producer has pre-set it up as a default mode on account of the inflexibility of riding that facilitates the learning process in beginner unicyclists. The mode is also great with regard to longer routes, as it saves power consumption.
Sport – it is characterised by immediate acceleration and rapid braking. Both tilting towards the front and back are strongly felt which makes the mode very dynamic. The unicycle is very well-maneuverable under this mode of operation while even the slightest tilting to the front brings about a rapid reaction. This mode uses the motor power to a greater extent in order to maximise the performance levels of this device; it may demonstrate itself in a range reduction of the unicycle.
Some functions of IPS Zero app:
the selection of riding mode,
setting up the speed limit,
speed monitoring,
battery status,
a horn,
the change of lighting mode,
gyroscope calibration.
The official mobile app may be downloaded here.
The INMOTION V5F app is also available for Android, BlackBerry and iOs platforms. Starting the application requires having one's user account registered and providing the serial number of one's unicycle. InMotion company has decided to use this solution in order to eliminate the problem related to the sales of their products from illegal sources.
The purchase made at an unauthorised dealer not only denies the user a possibility to use the mobile app, but also deprives them of the guarantee (read more).
We are proud of being an authorised dealer of Inmotion in Europe.
The InMotion app allows for the following, among others:
the diagnostics of the output of components of V5F,
the possibility for sound substitution of system messages with other sounds as well as the possibility to deactivate them,
monitoring one's performance and routes taken,
speed monitoring and setting up speed limits,
device calibration,
monitoring the mileage of the device.
The official mobile app may be downloaded here.
Summing it up
Both unicycles are great vehicles, manufactured by some of the most industry-acknowledged companies. Both wheels are similar by what they look like, retaining their differences with regard to parameters and equipment.
I dare to say that IPS Zero is one of the most successful electric unicycles in history. Its size is captivating. Its lightweight design makes it great to use in the urban environment. It has been made with unusual precision. The configuration and placement of its LED lights creates a great impression and still makes for a unique solution. All of this, as combined with the minimalist design, compensates for – the way I see it – the lack of a separate and powerful front lamp. It is surprising that the producer has decided to place it in this particular price bracket while its competitive models, representing similar of even less impressive performance levels, tend to be much more expensive. The functionality of this device may be extended by a purchase of an additional lamp, folding handle or wheeled backpack.
IPS Zero is the essence of a unicycle – a mobile and minimalist device that yet has got all that is indispensable. It is for those precisely looking for this kind of things. By the way – IPS Zero looks beautiful and makes a sensational impression with its lighting after dusk.
InMotion V5F is also a stunning device. Aside from the fact that is it a bit larger, more massive and slower than IPS Zero, it is additionally equipped with a powerful lamp for night rides and a separate button for turning on and off the drive while lifting the device. The centre of gravity has been placed much lower than in the case of IPS Zero which makes it easier to learn how to ride along a straight line with it but also less easy to take turns or precise slalom turns. On the other hand, it will be harder to scratch its pedals that may affect the users of IPS while taking sharp turns. While riding a V5F, one will have to be more careful during rainfalls while high curbs will not pose any problems to them which should make traversing urban areas easier. This unicycle is more expensive but one will find a folding handle and mudguard of rubber provided within a standard set.
INMOTION V5F is for those who are not interested in extremely small dimensions or decorative lighting but would like to be provided with additional equipment and the possibility to have their urban rides made more convenient – even with regard to the presence of less friendly roads and curbs, as well as relating to the places with no lighting provided after dusk. V5F should satisfy all those users who will only lift their device for a short time (e.g. over thresholds or a few steps) or keep it by themselves while indoors.
How about you – what do you think about it? Which of these devices would you pick?